About the St Pancras Hospital site
St Pancras Hospital sits within the King's Cross/St Pancras Conservation Area and is near to the Regent's Canal Conservation Area and the King's Cross Estate. It is located in the heart of the Knowledge Quarter, close to St Pancras International and King's Cross stations and adjacent to the King's Cross regeneration project.
Buildings currently on the site
There are currently a range of unlisted buildings from different eras on the site, with many being poorly designed and inefficient. An integral part of our masterplan will be to retain and reuse heritage buildings that contribute most positively to the area, as well as delivering new buildings that complement the surrounding area.
St Pancras Gardens
Our proposals will be sensitive to the listed buildings and spaces close to the site. Directly to the south of the site is St Pancras Gardens, which has Grade II listed status, and falls outside of the development area. We do not wish to change its quiet, contemplative character. The development will create its own spaces that will complement the Gardens rather than place additional pressure on it.
Developments close by
The local area has been undergoing rapid change over the past decade, with approvals for significant development at the mixed-use Tribeca scheme to the north, and 101 Camley Street, located to the east of the campus.
The Oriel scheme, which was approved by Camden Council in 2021, makes up roughly a third of the St Pancras Hospital site. The scheme is the first phase of development and works are due to start later this autumn. The scheme will see services move from Islington into a new, integrated centre. This world-class centre will be delivered alongside enhanced landscaping, improved pedestrian and cycle routes, and better links to the surrounding area of Camden. More information about Oriel can be found here and a CGI of what the Oriel scheme will look like can be seen below.
The St Pancras Hospital site is currently owned by the Camden & Islington NHS Foundation Trust and the development of the site is being led by C&I's developer partner, King's Cross Central Limited Partnership.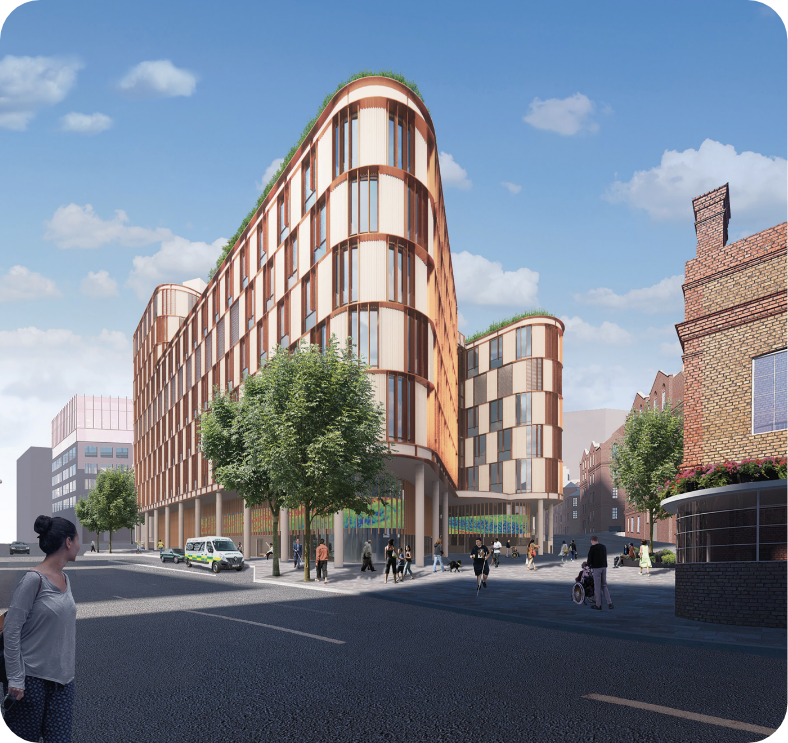 Camden's draft Site Allocations Plan
The site is identified in Camden's draft Site Allocations Plan for a mixed-use development consisting of health, housing and commercial uses, especially those that support the development of the Knowledge Quarter.
We believe this masterplan has the potential to transform the area while integrating with the existing local community through accessible and inclusive new streets and public spaces. It will also unlock the delivery of C&I's St Pancras Transformation Programme to deliver world-class mental health services.